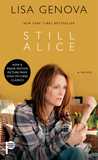 Still Alice by Lisa Genova
My rating: 5 of 5 stars
Originally published March 17th, 2015
I don't know how to review this book. I picked it up intending to start it and wound up finishing it in less than three hours because I couldn't tear myself away from it. It's a simple enough premise; the main character develops Early-Onset Alzheimer's. Everything changes. Genova does an absolutely brilliant job chronicling Alice's mental and perceptual challenges without making her into an object of pity. The story is wrenchingly sad but doesn't become pathetic. All of the characters flop between courageous and fearful, generous and selfish, empathetic and blind, in a way that makes them some of the most believable and real humans I've read. And I admire Genova's courage in addressing suicide and the weighty issues of what make a life worth living. What unique qualities make someone the individual they are, and what happens when those qualities begin to erode? Genova doesn't attempt to answer these questions for us, although I don't see how you could read this book and not have to revisit your own decisions on those subjects, if you've made any. Maybe some questions don't have answers. In some ways, Alice is incredibly lucky. She's got a loving and supportive family, and she and her husband are wealthy enough that the healthcare expenses-even with all the testing, drugs, and a part-time caregiver-don't rate higher than a couple of mentions. I'm sure for the average person diagnosed with Alzheimer's how to pay for the necessary level of medical care quickly becomes an all-consuming problem. What happens to the people who can't afford the drugs or testing they need? Let alone someone to live with them? The people without a support network? What good is a cure if you can't afford it? I hope in the future we find a cure for Alzheimer's, and I also hope anyone who needs it can get it.